See other items in this category:
Description
This handmade sink shall be a single compartment with rectangular bowl, featuring Radial inside corners. It shall be 19" in length and 20" in width, with a bowl depth of 10". Sink shall be made of 15 gauge stainless steel. Sink shall include installation hardware.
Specs
Features:
Certified 304 Grade
15 gauge stainless steel.
Handmade farmhouse design.
Single compartment.
Rectangular Bowl with 20Ί inside "radial" corners.
Unique sound-deadening system with sound pads and a special coating.
Lustrous and enduring finish which compliments any decor.
Limited lifetime warranty.
Product Details:
Handmade Series
Undermount Sinks
15 Gauge Stainless Steel
featuring 20 degree inside rounded corners
18" x 18"
Depth: 10"
Drain Choices: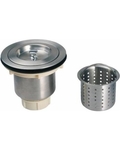 LI-XD (1)
Reviews
---