See other items in this category:
Description
Urban Place Handmade Sinks
Made from heavy 18 gauge stainless steel with 20 degree radial bowls for easy cleaning. Unique sound-deadening system with sound pads and a special coating.
Specs
R-ZS-500 Libation
Product Details:
Handmade Radial Edge (90 degree Corners) Sinks
Undermount Design
Heavy 18 Gauge Stainless Steel
Lifetime Limited Warranty
Constructed from Surgical 304 - The Highest Grade Available
Heavy Sound Deadening Coating and Sound Deadening Rubber Pads on Backside of Sinks
15" x 15"
Depth: 9"
Drain Choices: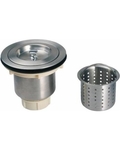 LI-XD (1)
Reviews
---